Lease-To-Own:
A new way of selling cars!
A customer comes on your lot wanting to buy a car. His credit score is below average and you can't get him financed. But he has a good job, good references and he has $1,000 to put down on a car. Do you let him walk away? Do you take the chance on him and finance the car yourself? Why don't you lease him the car?
That's right, lease ... with the option to own. Lease it for 12 months, 24 months, 36 months or more... with the option to own the car if he makes all his payments to you. You have control of the car until all the payments are made. Therefore you call the shots! The vehicle is fully insured, maybe even has an optional warranty. Taxes are usually paid as earned in most states.
If the lessee wants to skip town with your vehicle before all the payments are made it now becomes a criminal matter, not just a civil matter. Ok, so your asking yourself, "This sounds to good to be true, could this really work for car dealers across the country"? The answer to that question is YES! In fact, Lease-To-Own is more profitable than BHPH and conventional financing and is exploding across North America!
The average dealer (estimating conservatively) should realize the following profits: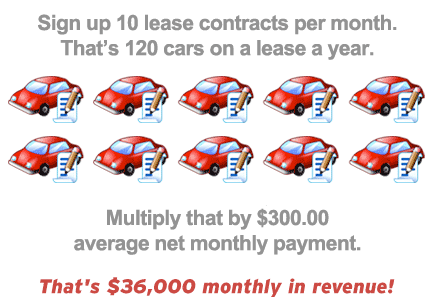 This is a conservative estimation; however, it is an exciting opportunity to expand your company's cash flow and income, even during the slow periods.
The SEADRA System
The Lease-To-Own industry has been used for years to sell everything from Toasters to Televisions. SEADRA has successfully applied this concept to the automobile marketplace; originated and developed the program for Louisiana, and is continually lobbying and working with State agencies to ensure continued success of the program. We have the expertise you guide you every step of the way.
The SEADRA System addresses issues such as:
• Insurance + Taxes
• Repossessions
• Customer Tracking
• Dealer Software
• GPS Vehicle Tracking Systems
• Electronic Lockouts
• Warranties
• GAP
• LSI
• Roadside Assistance

This is an approved, complete turn-key program that finally puts the dealer in the driver's seat!
---
Did you know?
SEADRA is the only Lease-To-Own program offering 100% Total Dealer support. That means you'll get ongoing guidance to ensure you are moving cars and optimizing profits.